Register
Directories
Entries
2015.06.29 Canada Day Camping
2015.06.29 Canada Day Camping
Last updated: None
On Monday we woke up to a beautiful day prepared for a short getaway. However, D'Arcy found out there was some problems with Vybe Networks. That didn't stop our getaway but it slowed us down a bit. D'Arcy got the system running and then we headed to Renewable Storage in Pickering to pick up our trailer. When we got there and where they had our trailer stored at the far back of the yard and another big trailer was blocking us in. The people that take care of Renewable Storage are really helpful. They apologized to D'Arcy and said when we return they will put our trailer in the front of the storage yard.
We took nearly all day to get to Fitzroy Provincial Park in Ottawa where we had been told that there would be water to hook out trailer to but there was none, just power. We started on our given lot of 93 then D'Arcy was told by the office lot 49 would have water but our hose couldn't reach so back to 93 where we hooked up power. D'Arcy found that backing into the lot in the dark was a challenge. Although Fitzroy Provincial Park was very clean we did not stay.
We woke up next day and found another campground on line called Poplar Grove Camp/RV Park also near Ottawa and very clean. It was much better setting up in the daytime. We were in the area called Shady Lane 268.
If you look at the picture of our bathroom sink you will see it overflowing with suds. We were flushing the antifreeze out and presto! It seems that the type of anti-freeze used in drinking lines foams up.
We went to an open jam at a bar called Newfoundland pub on Montreal Road. D'Arcy brought his guitar and harps. It was funny that we traveled 500 miles and as we entered the jam we knew people there. Small world isn't it? They all made us feel welcome as if we had walked into a jam in Toronto where everyone knows us. They all enjoyed jamming with D'Arcy. As usual I took pictures.
The next day we went to Stittsville to visit my brother Robert, his lovely wife Laura, their kids and their dogs. I always enjoy seeing family members. Laura's family was there. They put on a lovely spread. We spent a lovely afternoon. Laura's family made sure their big toes were ready for Canada Day. They all had the Canadian flag painted on their big toes.
We had been invited back to the Newfoundland pub the night before so we headed down again. This time D'Arcy brought his bass. It was a special occasion because Rob, the second guitar player, was going away.
The next day we woke had breakfast in our trailer then we went to the nearest Tim Hortons to use their WiFi since the campground's WiFi wasn't able to reach the back where our site was. Since we were there for a while we made sure we bought a great coffee and tea and two of their yummy muffins. Then we went shopping. We went to Swiss Chalet for supper. After a tiring day we got back to our camp and went swimming in the indoor pool.
Shockingly I did not take a single picture all day. In fact I brought my camera out with us but forgot my camera battery and the chip in my laptop. I did not think of my camera all day.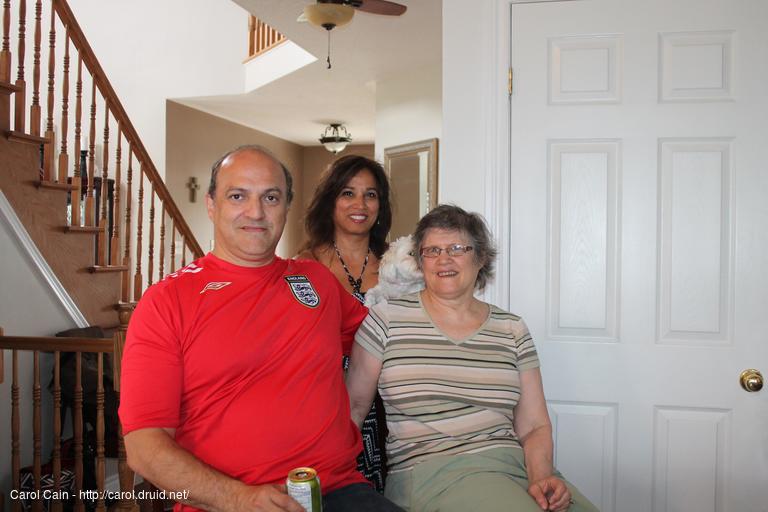 More pictures: