Register
Directories
Entries
2016.06.10 BSDCan 2016 in Ottawa Ontario
2016.06.10 BSDCan 2016 in Ottawa Ontario
Last updated: None
D'Arcy registered for the 13th annual BSDCan, a conference which is held in Ottawa at the University of Ottawa in the Desmarais building. This is a technical conference for people working on and with 4.4BSD based operating systems and related projects. D'Arcy is one of the developers for NetBSD.
Saturday I tagged along. We were there at 10:00. I was only coming for the dinner that night but it was too far to come pick me up at the camp ground.
We left our truck in the underground parking at the Rideau Centre and we walked to the building in the rain. D'Arcy asked Dan if I could enter the classrooms in which there was some talks going on and work on my computer. Dan said OK as long as I didn't learn anything.
At the end of the conference they auctioned off some things with the proceeds going to a local men's shelter. Then we went to the party with David Maxwell and others at the Lowertown Brewery. We ate, drank, and had a good time. D'Arcy and the other NetBSD developers discussed making sure that next year there were some NetBSD presentations.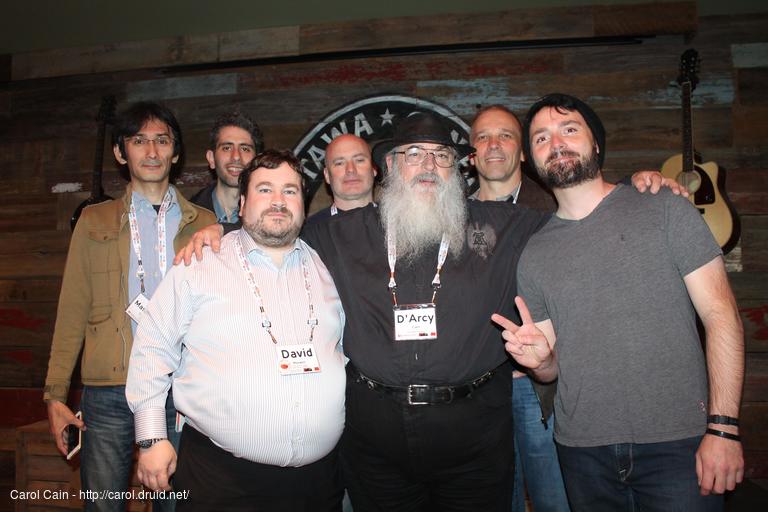 I made sure I took pictures of the NetBSD Developers and supporters. From left to right Saitoh Masanobu, Sevan Janiyan, David Maxwell, Andrew Cagney, D'Arcy Cain, Greg Woods and Jay Finch. We also got some of the crowd and the band. We stayed until midnight talking about the conference and NetBSD.